MTA Takes Third in NCSY Jump Challenge
by Yehuda Karol ('15)
This past Sunday and Monday, Avi Weschler, Phil Meyer, and Yehuda Karol went off to Melville, NY, to represent MTA in the annual NCSY JUMP Leadership Seminar. In addition to MTA, schools such as SAR, Rambam Mesivta, Central, SKA, Kohelet, Shalhevet, Magen David, Hebrew Academy of Miami Beach, Weinbaum, and HANC, […]
by Yehuda Karol ('15)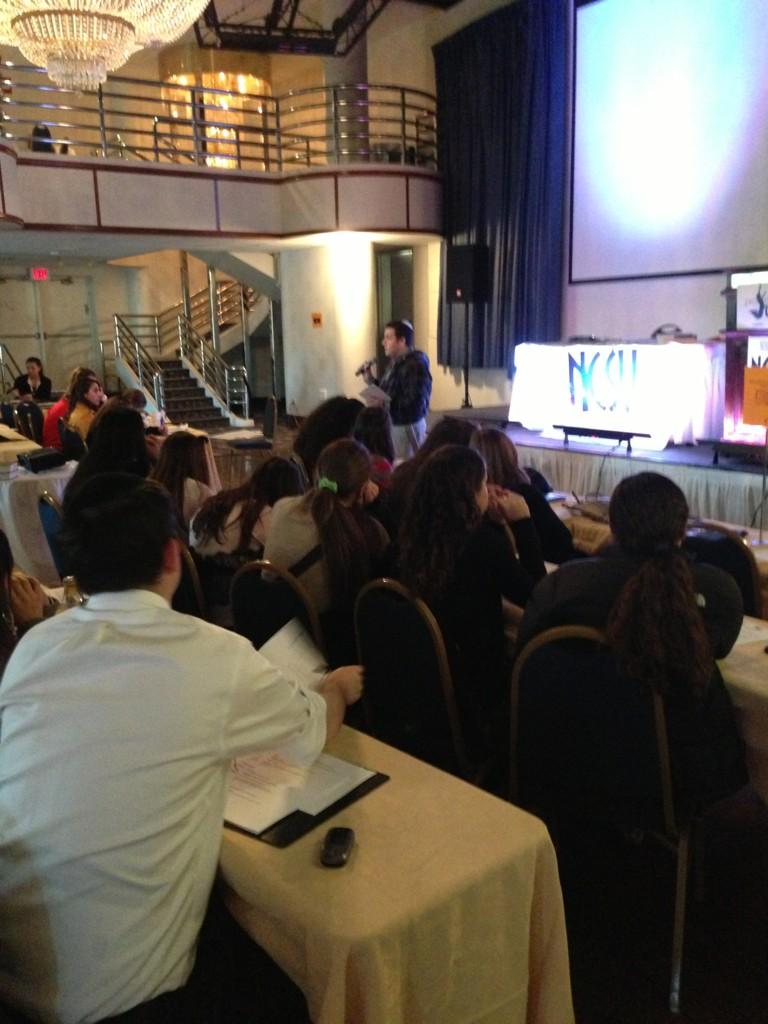 This past Sunday and Monday, Avi Weschler, Phil Meyer, and Yehuda Karol went off to Melville, NY, to represent MTA in the annual NCSY JUMP Leadership Seminar. In addition to MTA, schools such as SAR, Rambam Mesivta, Central, SKA, Kohelet, Shalhevet, Magen David, Hebrew Academy of Miami Beach, Weinbaum, and HANC, were represented, as well as NCSY groups from Portland, Cleveland, and the NY/NJ area. The two day program included a speech from YU President Richard Joel, as well as lectures on how to be a leader within a group in the Jewish community. We learned how to set up an organization based on an idea, and how to market, finance, and operate it. The goal of the seminar was to have each team come up with an idea for an organization, with the top three teams receiving seed money to start their projects.
While learning these important skills, we had to come up with a basic idea for our project. We certainly had the deck stacked against us, due to the fact that we had the second smallest team. Despite this, we came up with a pretty good vision: to have a foundation that gives money to struggling Jewish communities, no matter the level of religious observance. We decided to name our foundation "Aseir She'Titasher," in effect meaning "give, so that you may receive." We realized that because we have access to great Rebbeim here at YU, we would easily be able to reach out to numerous communities in need of help, and we made sure to point this out in our pitch to the judges.
When it was time for the final judging results to be announced on Monday afternoon, we felt highly optimistic about our chances of advancing to the challenge round. We were ecstatic when it was announced that we placed third, sending us to the next round. We will now receive some money from NCSY to help start our project, and we will have to market our organization through social media while we begin to collect money for struggling communities. Our goal is to help as many Jewish communities as we can, and hopefully, Team MTA will end up winning the 2012-2013 JUMP Challenge.
Letter from Carol Rhine, NY NCSY COO

Hi Rabbi Green,
Just wanted you to pass on to you some nachas about the MTA boys who attended the JUMP Seminar.
Although there were only 3 of them, Yehuda, Phil and Avi certainly held their own amongst the other larger student groups from the 15 participating schools.
Their participation in all the activities and workshops was always noted. The initiative, hard work and effort that they invested in their Final Presentation was amazing, and evidenced by them winning third prize of $100 seed money to assist them in their upcoming JUMP challenges. This prize was awarded based on voting results from the other schools throughout the seminar.
Many of the other mentors commented to me about their respectful behavior and middot. MTA should be very proud of these students
I know that given the proper guidance and mentor, they will be able to go far in the JUMP challenge competition.
Best,
Carol Rhine
Chief Operating Officer
New York NCSY