Sophomores See Jewish History Exhibit in Conjunction with YU Library
by Avraham Tsikhanovski ('16)
Click here for more pictures from the Rare Book Room in YU Mr. Semach's 10th grade History class went on an educational trip to Yeshiva University's Gottesman Library earlier in the week. The students were ushered to the fourth floor, the floor where the ancient, rare, and valuable texts are stored. In […]
by Avraham Tsikhanovski ('16)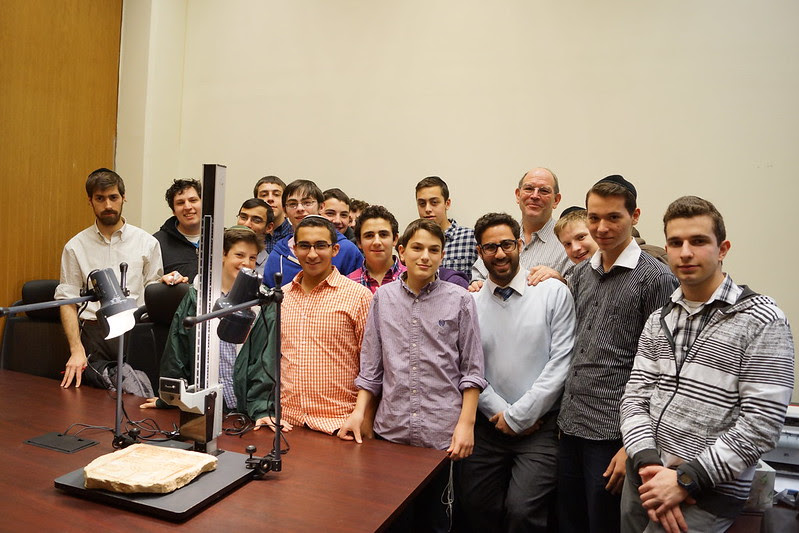 Click here
 for more pictures from the Rare Book Room in YU
Mr. Semach's 10th grade History class went on an educational trip to Yeshiva University's Gottesman Library earlier in the week. The students were ushered to the fourth floor, the floor where the ancient, rare, and valuable texts are stored. In a small room on the fourth floor, the students were greeted by  YU Professor Steven Fine and his team. They were researching a Jewish tombstone that dates from 430 C.E., just 360 years after the destruction of the second Beis HaMikdash.
The students were given a crash course in how historical artifacts are analyzed and researched. The class was also shown that the Hebrew letters used back then are different than those that we use now. The tombstone in question was found on the Jordanian side of the Dead Sea, and then sold to a church in Northern California. The church in California then made a decision to donate the tombstone to Yeshiva University because it was felt that it would be more greatly appreciated there. The tombstone was from an era when the Jews and Christians lived together, and it was significant to see this heartwarming donation made by the church to YU.
Sharing a campus with Yeshiva University has many perks, and being able to see an actual artifact of Jewish history like this is not something that every history class can do. Mr Semach's class would like to thank Professor Fine for his time and energy in creating a fun and interactive learning experience.